Back to the blog
How to make money on YouTube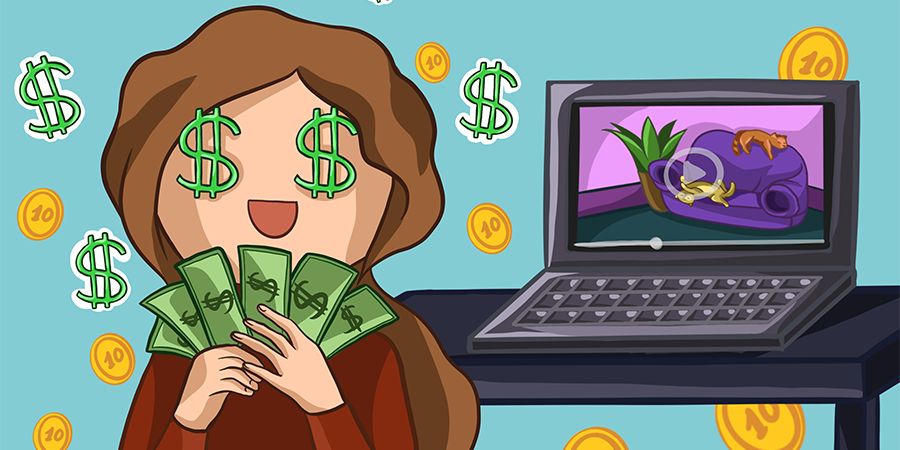 Making money on YouTube is one of the most frequent queries on any service. How to make money, what are the ways, what conditions, how to get the channel and yourself ready for this? In this article, we will analyze the official and affordable ways to make money on YouTube.
Let's consider four major options: monetizing through the Affiliate Program, developing your own product, donations from subscribers, and advertising goods and services from brands and private bloggers. Let's get started!
Monetization setup
You can become a member of the YouTube Partner Program and enable displaying ads. Each ad has its own characteristics and placement. For example, media ads appear to the right of the video above the featured list, while overlays appear at the bottom of the video. There are six formats like this, which are automatically embedded in videos. They are focused on keeping the user engaged while watching and maintaining the author's income level.
How to enable monetization?
The channel must be linked to your Adsense account
You have to get 4,000 hours of views and 1,000 subscribers in 12 months
You must live in the region or country where the Partner Program is available
Become a member of the YouTube Partner Program and comply with YouTube's content monetization policies
Having fulfilled all these conditions, you will have the opportunity to become a partner and receive official income. Other monetization options and their requirements are presented in the table below: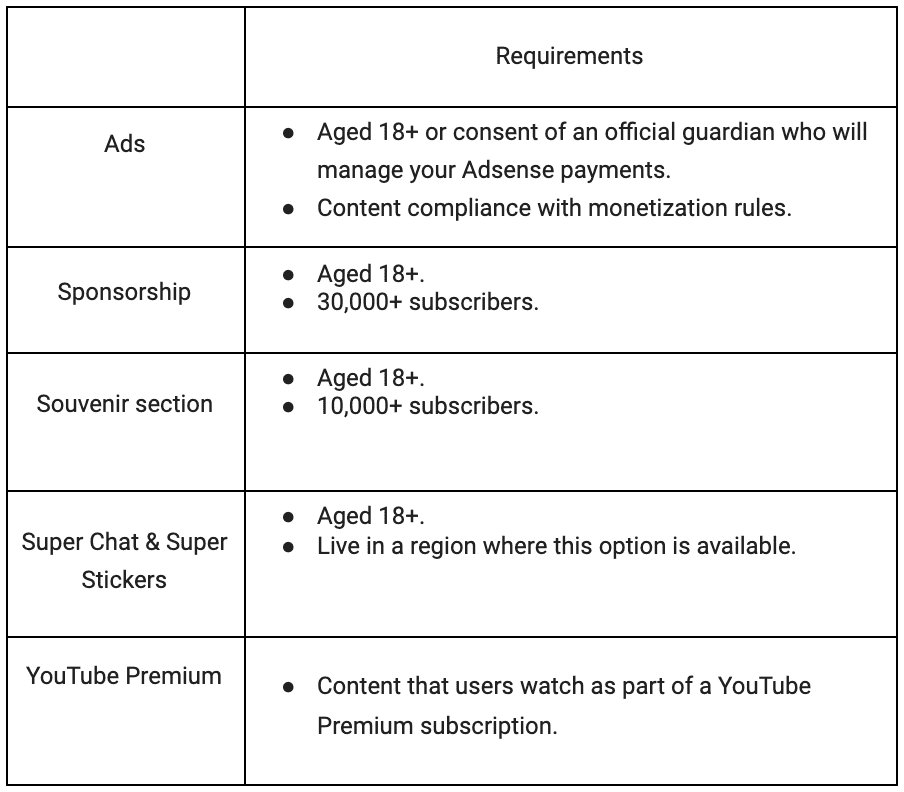 Developing your own product
If you are a full member of the YouTube creator community, you have built your audience and you regularly publish content, then we recommend you to think about creating your own product. For example, if you're talking about productivity and motivation, why not create your own planner books? And if you are a wonderful makeup artist, you can work on creating your own line of cosmetics or collaborating with a brand.
Authors come up with different kinds of merchandise, create courses based on their knowledge, write books, and release songs. This is what we mean by a product. Besides, that's another way to make money on YouTube. We won't go deep in details, because this is already creating our own business, even if it is relatively small. You should contact professionals, think over a strategy, and most importantly build your audience so that there is always demand for a product or service.
Donations from subscribers
Another surefire way that video bloggers, streamers, and community owners often use are donations. This is some kind of support and gratitude from the viewers for your hard work and efforts. It costs a lot of money and effort to create a video on YouTube: equipment, decorations, editing, advertising, as well as the time and labor resources spent. Donations can help motivate and encourage a blogger.
YouTube has an official Sponsorship option.
To enable it, make sure the following:
The author is aged 18+;
1000+ subscribers on the channel;
The option is available in your region;
The author is a member of the YouTube Partner Program;
The channel should not be marked as made for kids.
More information about the rules can be found in the help article "Channel memberships eligibility, policies, & guidelines".
You may have noticed that some users attach their payment details in the description to their videos. We should warn you that this may not be a very right and legal way of earning money.
We fully support and recommend official earning methods, so be careful and attentive.
Advertising goods and services
This is about collaborating with brands and bloggers. You can earn as an advertising person by implementing short ad inserts in your episodes. For example, we have an excellent cooking channel, why not collaborate with manufacturers of household appliances? Why not demonstrate new and convenient scales while we are laying out the products? Or when breaking eggs into a pan, mention that it is a great pan brand that comes with a non-stick coating.
Points to remember:
Advertise only those products and collaborate with those bloggers in whom you are confident. If you use the scales yourself or trust the blogger whose course you are advertising then your advertising campaign will succeed. Only this way you will never lose the interest and trust of your viewers.
Another golden rule is that ads must be relevant. It's somewhat ridiculous to advertise repair tools on a gaming channel, or a sewing machine on a travel channel. Choose only those products or services that are directly related to your channel or your interests that the public knows about.
The main mistake newbie YouTubers make is that they agree to advertise any products. Take a moment and think it over, postpone the offer for a day and analyze where you can use it. Is the offer worth the hassle and are you sure it won't do any harm? Your reputation is your most valuable weapon.
We hope this article helped you understand the ways to monetize and how you can enable it. If you have not found the answer to your question on how to make money on YouTube, please leave it in our "Q&A" section. We will try to provide you with an answer within the shortest possible time.
Please consider only official earnings, no matter how pleasant and promising other offers may be.