Back to the blog
Choosing a camera and equipment for your YouTube channel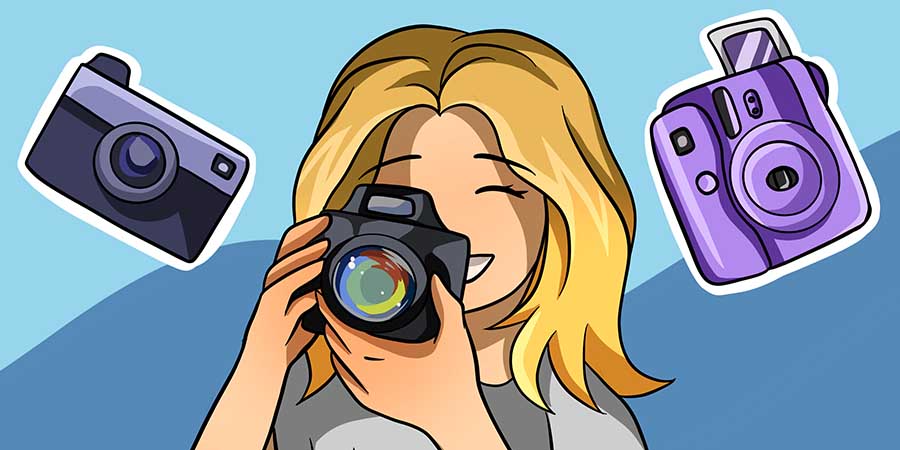 Thinking over topics for a blog, writing scripts, choosing a background may be quite exciting. The creative part of blogging is great. But when it comes to planning, we are faced with many nuances: what kind of camera to use, what to do with the yellow light from a chandelier in the frame, how to record sound to avoid rustling in the background.
This is called the technical part of blogging: equipment preparation.
What do we have here? Well, we've just listed all of them: camera, light, and sound. This makes the basis.
We will go step by step and figure out which technique to choose for a beginner, must-have things, and what can be replaced.
Camera
You know well enough that professional equipment is not always necessary to shoot videos. If it's not about blogs, where color rendering is important, e.g. a beauty blog, custom clothes paintings and designs, wardrobe selection, then a smartphone will work just fine.
Let's consider a simple example: In 2019, American singer Selena Gomez released two top music videos that were shot on the iPhone 11 Pro. And this is not the only experiment among celebrities.

Selena Gomez - Look At Her Now (Official Music Video)
If your videos imply professional shooting from the very first video, then you should take a closer look at the following models: Sony A6000, Sony A6400, or Olympus PEN E-PL8, 9, or 10. These cameras are quite easy to operate, and in case of any troubles, there are tons of reviews on YouTube to help you figure it out.
If this is a lifestyle vlog, reviews of various places where you are as mobile as possible in the frame, you should consider action cameras like Sony, GoPro, Xiaomi. Another cool option is the DJI Osmo Pocket.
Conclusion: for those who are just starting vlogging, you should not spend all your savings on an expensive professional camera. Better to keep the budget for promotion, while you can shoot videos with your phone.
Sound
For conversational vlogs, the sound is important, because hissing, rattling, and volume interruptions make people unwilling to waste their time, even if you have a super interesting topic.
If your house guarantees silence and quietness, you can do with classic lavaliers that you can buy with any budget: they start from $3.
But if your main emphasis is on sound (ASMR, lectures, podcasts), then it is worth paying special attention to this and choosing better equipment. For example, you can buy Zoom H1 or H2n recorder, HyperX QuadCast microphone, and other models. Low-cost professional equipment is sold for $140.
Light
This matter is especially acute: either you buy a basic ring light (you can find options from $10), or you consider professional equipment.
Most often, authors use a ring lamp in their vlogs - it is perfect for both conversational blogs and reviews, as well as for beauty topics and cooking. Powered by USB, there is brightness and sometimes color modes control, a stable tripod - everything you need for the perfect picture.
If a ring lamp, or even a few lamps, is not enough, then you should choose more professional equipment. The parameter to take into account when choosing light is power. The larger and wider the space, the higher the power properties of the equipment should be.
For example, in our vlogs, the operators use a Godox SL-150W studio LED light. It is sufficient enough to illuminate all important areas. It is complemented by the Falcon Eyes FEA-OB12 BW octabox, which is a modifier that gives light softness and distraction, while a vlogger looks fresh.
We hope that we helped you delve a little deeper into the equipment and understand its meaning. In addition to the standard set of light, sound, camera, there are thousands of accessories and equipment that will help improve the quality of your blog. However, if you are just starting out, focus on the quality of the content itself: the topic of your videos, the content, a good script, and the way you present the content.
If you have any questions, please don't hesitate to contact us.
Check out our "FAQ" section on our website Prodvigate.