Back to the blog
Youtube Creators Award. How to get YouTube Play Button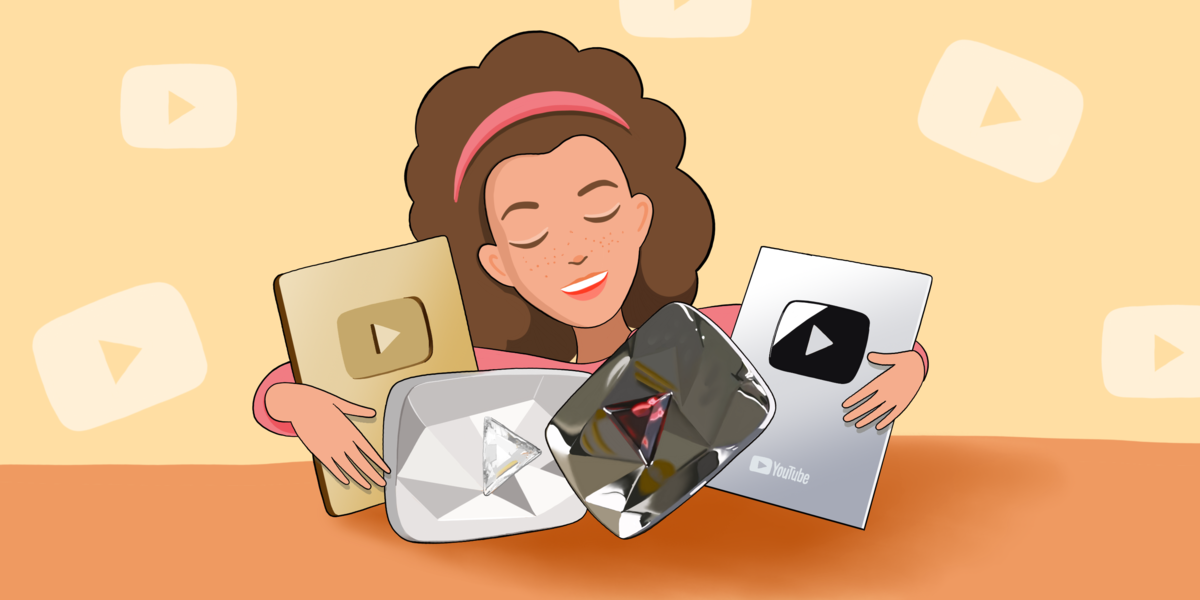 Most social networks try to reward creators who inspire their followers. They may do this with some kind of official gift box, access to additional analytics, or hidden functions. YouTube took it to the next level. They decided to create something that will encourage vloggers, given that the platform is first in the list of videos and second on the list of sites in terms of traffic. That would not be possible if vloggers did not exist.
Let's start with the most valuable, real reward for authors: YouTube Play Buttons.
When this started
Tim Shay, executive director of video hosting, presented the YouTube Golden and Silver Buttons during one of the most major annual VidCon events in 2012. Of course, creators weren't growing as fast as they did ten years ago, so the decision to award the Silver Button to creators who reached 100,000 subscribers and the Golden Button to creators who reached 1 million subs. This created an exclusive and prestigious reward.
It was only a few years ago that YouTube began to develop considerably more rapidly, and the flow of viewers hit an all time high. So YouTube made the decision to hire a whole factory to create these buttons. The video hosting representatives promise that all buttons are hand made specifically for creators.
In 2015, YouTube Vice President of Product Management Matthew Glossbach announced that the team was ready to introduce the Diamond button, which was intended for creators with ten million subscribers.
About a year later, the first Custom Creator Award debuted as a unique prize for the vloggers with 50 million followers. The recipient of this prestigious award was PewDiePie, a well-known Swedish video blogger. This honor was accompanied by seven additional little buttons for his viewers who have supported the vlogger for many years.
The Custom Creator Award does not have a certain design; the YouTube team decided that this award should be created independently, according to the style of each future vlogger.
According to the latest data, about 40 channels have crossed the threshold of 50 million subscribers. But the first ones were honored to receive the Custom button: PewDiePie, T-Series, 5-Minute Crafts and Cocomelon - Nursery Rhymes.
The Red Diamond Creator Award appeared in 2019 and was first held by the Indian label and film studio T-Series. The button repeats the design of platinum - their main differences are only in color. And, of course, it is the world's most prestigious YouTube award. The Red Diamond is given to creators with more than 100 million followers.
This most prestigious prize was awarded to seven YouTube channels: T-Series, Cocomelon, Sony Entertainment Television India, MrBeast, PewDiePie, Kids Diana Show and Like Nastya.
The most popular channel on YouTube is still officially recognized- the Indian channel T-Series with 239 million viewers. It's interesting to imagine what reward will be next, because it's been a little more than 10 years, and creators are consistently pushing the boundaries of success on the platform.
How to get the Play Button Award
The goal of 239 million subscribers probably seems unreal. However, growing to 100 thousand subs is quite realistic—you will need only 0.04% of the audience from the giant T-Series. But if it was so simple, we would not see only a couple of Custom Awards on the internet, but all forty. In order to participate in a loyalty program, you must also follow the rules.What does YouTube ask of creators besides a certain number of subscribers?
You can get a reward if:
Your channel is active, i.e., you have uploaded content to it over the past six months.

In the last 365 days, you have not received any warnings about breaches of community rules.

You comply with the YouTube Terms of Service.

You have not been excluded from the YouTube Partner Program.

Your channel is not blocked or associated with a remote account.

You comply with the rules regarding spam, fraud, and theft.

You publish mostly original content. YouTube does not award awards to those who upload compilations, mixes, or collections with third-party content or videos that dominate other people's content.
But despite the item about the affiliate program, you are not required to be a part of it. You can use third-party (permitted) services. Then the decision to give you the award will simply be taken individually and after a thorough inspection.
What other criteria does YouTube have for creators?
You do not have the right to transfer and sell original prizes. Unfortunately, if such information reaches the video hosting management, they will be forced to take action. For example, they could withdraw a prize, deprive you of the rights to receive future prizes, or block your YouTube or Google account.
It should be noted that not all creators from all countries can currently participate in the program.
The full list you can check here: Help.
How do I know if I can get a YouTube award?
If you realize that your channel did not violate the above rules, and the number of subscribers has exceeded the threshold of 100 thousand - congratulations. You have the ability to receive your first well-deserved award – the YouTube Silver Play Button.
How to check eligibility?
You must complete a small check here: Help. Fill out the channel details, wait for the decision, and enter the code to receive the award.
Be careful; video hosting warns that each country will have its own rules. Customs duties, for example, are not YouTube's responsibility.For more information, look in the tutorial or send questions to the official YouTube support email address. [email protected].
How can I get a prize in a country that is not on the list?
A question that needs a precise and, most importantly, individual approach. It's difficult to be responsible for each individual creator, so we'll offer you ways that other YouTubers share.
If your channel is officially registered in a country with which YouTube temporarily does not cooperate, but at the same time you are in the country where you can get the reward with no issues, simply indicate in the delivery data the current address of your temporary or permanent residence.

If you live in a country with which YouTube temporarily stopped partnership, but you have proven friends, or colleagues in the country where you can get the reward, indicate in the delivery information their details (the engraving on the button will not be affected), and then ask to send a trustee to your place of residence.
And yet, this is not a call to action but rather advice that is based on the experience of other creators. Delivery in the second case will be long; it will require shipment through several countries at once, and no one can guarantee that at this point the reward will not have fulfillment issues. However, if you are aiming to get a dedicated button by any means possible, it's worth trying.
We also want to draw your attention to the fact that any non-standard ways to get rewards from YouTube require the competent consultation of video hosting staff. In order not to ruin your channel's reputation or fall under sanctions for negligence, be sure to send a letter in advance to the above-mentioned support email.
We hope that you will one day win one of these coveted awards. In the meantime keep creating!