Back to the blog
YouTube Shorts as a Way to Gain Profit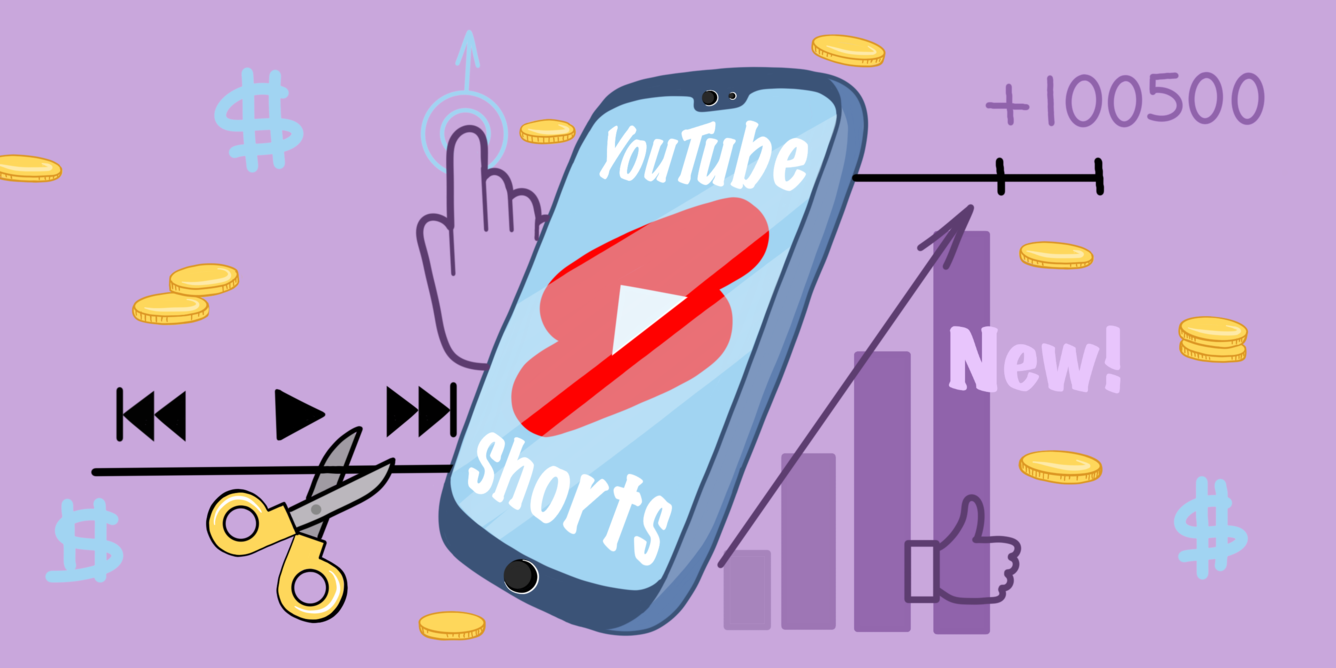 Shorts are short 15-second to 1-minute vertical videos. Their main purpose is to give creator's mobility and allow them the ability to use only their phone to create content.
This is a new concise and quick way to convey information or a specific message to your audience. Along with the growing desire for authenticity and openness, shorts claim to take the top spot, as this format is great for building closer interaction between creators and viewers.
A bit of history: shorts appeared quite recently and at first only in India, since September 2020. Then, from May 2021, they became available in the United States, and from July 12, 2021, to the whole world. Shorts are actually still in beta testing, so many changes and updates are expected.
There are only two requirements for your videos to appear in the shorts section: time (between 15 seconds and a minute) and format (vertical videos only).
The camera is multi-segment when you create shorts. This means that you can shoot and stop the video while creating snippets. It is possible to hold up to 15 fragments. And each of the pieces can be mounted and changed in its own way. The video must be vertical. The widest possible format is a square. But keep in mind that there will be more black screen space around your video.
You can add the hashtag #shorts. This is optional, although it was previously required. We still recommend adding it because there is a chance that videos with the hashtag will fall into the recommended section faster.
Try typing the hashtag "shorts" into your YouTube search, you will be really impressed by the results. The popularity of short videos on YouTube is growing rapidly.
Where shorts reside and how to shoot them
The Shorts section itself can be found in the YouTube mobile application: it is placed on the bottom line in a separate category, as well as on the platform itself in the side menu.
You can scroll through the main page with all the videos and suddenly a horizontal block with shorts will appear. Or you can search for a popular term and scroll down a bit on regular videos in the results to see a pop-up block with shorts.
If you go to the shorts section, the videos play immediately.
How to create shorts
Record a video using a phone
Open the app on your phone, click on the plus button in the middle of the bottom bar and select "create shorts". A window for recording a video will immediately open. The default video length is 15 seconds. If you need more time, press 15 and select 60.
Music from the YouTube music library or from videos of other users can only be added to videos no longer than 15 seconds. You can choose a track before you start recording your video, but do not forget that you need to keep track of the duration.
You can upload your shorts not only through your phone using the YouTube application. You can upload any shorts from a laptop or a PC, as you like. And if the video is short and of the required format, it will be automatically transferred to the "shorts" section. You might find it a bit confusing, but it turns out that shorts automatically go to the section of all videos, while not every video is Shorts.
Be careful with the music in the video, as there is a stricter copyright policy that only applies to shorts made on the YouTube app.
A short video can be made of a single video or several fragments. When recording a video, press the main red button to start and end the recording of each clip. On the top line there will not be a solid red line of writing but divided into pieces. Each fragment can be edited. YouTube gives you quite a lot of options to change the video. You can implement your ideas with the help of several tools. In fact, this is a simplified video editing program. But super simplified, of course.
Here is what you can do:
Speed ​​up or slow down the video itself or each fragment individually using the "speed" tool.

Take pictures of yourself, not in selfie format. There is a countdown timer and a scheduled stop in the video recording.

Do not hold down the record button all the time while making a video. Double-clicking will fix the beginning of the recording.

Add free music before recording or already when editing the finished video. However, it only works with shorts for up to 15 seconds. YouTube warns that you can only take music for non-commercial purposes. But it's still impossible to monetize shorts directly.

Change the volume of a track.

Use any filter you like, both during the shooting process and when editing the finished video.

Use any other background for recording by clicking on the "green screen" feature. The background can be selected from your gallery.

Start recording a new video and see the shooting of the previous one at the same time. You can do that with a "combine" button. You will see a translucent overlay of the last frame of the previous video.

Crop and edit each of the fragments.

Import snippets. You can download previously taken small pieces from the gallery, which you will combine into shorts.

Add text after recording a video. You can add several supers.

Customize text clips. With the help of the timeline, you can adjust the beginning and end of the text display in each fragment of your video or in the entire video.

Delete the recorded video and get back the already deleted one.

After recording, click "done" to view the result and make changes if necessary.

You can add a title to the video up to 100 characters just like in any other YouTube video.
Before publishing, you need to select the type of access: public, limited, or by link, and the age category. For authors 13-17 years old, only limited access is available. And for people over 18, by default, access is public. You also need to specify which audience your video is for: whether it is for kids or not. After that, you can click "publish" and your short will begin to conquer the expanses of the platform.
How a user can interact with shorts
How can the viewer interact with short videos? What options does he have when viewing? There are few opportunities, but the most important thing is that you can subscribe to the channel. For shorts, this is way better than just views, because there is no monetization for viewing shorts. In fact, the key objective of your short videos today is to attract an audience so that they go to watch longer videos on your channel.
When watching short videos, the channel name, the "subscribe" button, the name of the video, and the icon of the music track are displayed below. By clicking on the music icon, YouTube will display the entire list of shorts with this track. You can add it to your "favorites" so as not to lose it or click "use track". You will immediately be transferred to the video recording window, and as soon as you click on the start of the recording, the track you have selected will start playing. Do not forget that music only works for 15 seconds.
In the right vertical column, you can either "like" or "dislike". But no one except the author will see this, as in ordinary videos. Youtube canceled dislikes, as you remember. You can also read or leave comments, and share these shorts. You can also like it by double-clicking on the video itself in the feed. By the way, the author can leave a comment pinned at the top, if necessary.
How much you can earn with shorts and what are the benefits
YouTube has come up with shorts as a new dynamic and entertaining video format that will expand your potential as a creator. At the moment, shorts are not about money. Or, at least, not about direct and fast ways to earn money.
Shorts don't have monetization through an affiliate program yet, unlike other videos. It just doesn't exist. Perhaps it will appear over time, but for now, we can only guess. We already know how YouTube comes up with its unexpected innovations.
What we want to say is that it does not matter at all how many views and likes your shorts will gain. However, you can track the effectiveness of your short videos on the channel: there is a shorts section in YouTube analytics in the creative studio. Your shorts can have analytics, but not create revenue. You can actually track analytics on your short videos and see which topics and formats are performing better than others.
The efficiency of this video format can be measured by the number of new subscribers.
Why is that? A well-shot short video that will jump straight into recommendations can easily bring the author a lot of new subscribers. Shorts work with simple math. These are super short videos that you basically can't spend as much time on as creating a long half-hour video with professional editing.
Yes, some creators spend a lot of time and money on creating many short videos just to be cooler than others. And yes, often such videos pay off with new subscribers, but not always.
It is important to remember that such a diverse tool can help you in your experiments. You can shoot dozens of videos and see what kind of response from the audience you will get. You can change the style and create some new atmosphere on the channel. You can create your own vibe. You will be able to see what is valuable and special you have to offer as a creator and try to choose the best implementation of shorts to grow your subscribers. This is how shorts can help you.
To sum things up, shorts are a cool and simple tool for experimenting and gaining subscribers, which currently does not bring any income. It's easier to test things out in shorts. You don't have to invest a lot in filming and editing, and most importantly, you don't have to wait long to track success. These videos either go viral right away, or they don't take off.
The new video format allows you to learn new ways of optimization and promotion. You can create looped videos. Small clips that are filmed in such a way that it is difficult to distinguish between its end and a new beginning. You can benefit a lot from shorts. Of course, not because of views, but because of branding and exposure.
YouTube Shorts Fund
Due to the lack of monetization of short videos, YouTube decided to do at least something to cheer up the creators. So, they made a special program - the YouTube Shorts Fund.
The fund's budget is $100 million. Bonuses from the fund are paid monthly to the most popular short video creators. The amount of each payout is from $100 to $10,000. They consider original videos with a large number of views.
Here is what you need to do to obtain a reward:
You have uploaded at least one short video in the last six months.

You comply with YouTube's internal community guidelines, as well as copyright and monetization requirements.

Your content is original and you do not upload videos with watermarks or other social media logos. This is for those who like to upload videos from TikTok to YouTube. It won't work.

If you are a US citizen, you must be over 13 years of age. If you are from some other country, then you must be of legal age, but check this out with the legislation of your country.

If you are 13-17 years old, your authorized representative must accept the bonus terms and set up an AdSense account if necessary.

You must live in the territory where this fund operates.

Be a member of the YouTube affiliate program or multi-channel networks.

Monetization across the entire channel is optional.
To be able to take part and receive a bonus from the Shorts Fund, you must submit an application yourself. YouTube will select thousands of authors every month. Therefore, after the first week of each YouTube month, wait for a notification of possible participation by email.
By the 25th, you must send an application, but you must meet two conditions:
You must first accept the terms and conditions for receiving the bonus. In fact, just agree to the rules.

You must have an active registered Google AdSense account.
Without these conditions, you simply won't be able to even apply. We advise everyone to hurry up, as registration in Google AdSense takes about a month.
When can I expect to get a bonus?
If you received a bonus from the fund, the funds will come along with other income received from YouTube during the month. The payment may be processed up to 4-6 weeks after sending an application for a bonus. Payouts from your AdSense account usually occur between the 21st and 26th of each month. By the way, YouTube notes that depending on the legislation of your country, it is possible to withhold tax from this payment.
Getting a bonus from this fund is not easy, simply because there are a huge number of short videos, and only the best are selected. YouTube does not reveal the criteria for the evaluation. That is, we do not know whether it is an automated system or actual people that choose the best shorts. Or both. But if your shorts have reached millions of views, go for it anyway.
Background music in shorts. Copyright
Authors who often use music tracks in their work know that you need to be careful to ensure that copyrighted music does not end up in your videos or is used correctly. If you do not remember what music is allowed and where to find it, please check out our two videos on this topic.
How does this apply to shorts? Shorts give authors more freedom, but you need to know how to use them right. First of all, music can only be added to videos that are no longer than 15 seconds. The track itself can be taken from the YouTube library directly when creating shorts or from short videos by other authors by clicking on the composition icon. We have described it above.
This is where you need to be on the alert. The safest option is to take the tracks that YouTube itself offers, and this is not equal to the YouTube music library.
When creating shorts, there are a lot of musical works for every taste and need. You can select a track first and then start recording shorts, or upload a short video and add music in edit format. If you do this in the mobile application through the shorts tab, it is completely safe.
But there is another option. You can upload any short vertical video with music that you find in third-party sources using any device you like. And here YouTube's copyright policy works the same as for any standard video. At first, you can earn a Content ID claim, and in the worst case, a strike. So, make sure to use only trusted sources.
The second controversial point is whether it's okay to take music from the videos of other authors.
Each author, when creating shorts, can download a piece of music that is protected by copyright. He downloads it, inserts it into his short video, and publishes it. If the system recognizes non-original content, the author will receive a Content ID request, and maybe a strike over time. You are at risk as well. To avoid this, use any online service to check music for copyright. This will keep your content safe.
Taking music from the YouTube music library is the most convenient option in the case of shorts. There is a lot of music, it is popular and of good quality. If the author of any track decides to change the conditions for the distribution of music or prohibits access, this is his right. But you won't get a Content ID claim or a strike for doing so. YouTube will remove the sound from your video, set access for it via a link, and will remove the shorts after 30 days. But the video hosting will warn you about this in advance, and you can download your short video without sound to replace the track and republish it.
Do I need to have a dedicated channel for shorts?
This is one of the most popular questions. Especially for newbies who are worried about the reputation of their channel and are afraid of losing those few, but already time-tested subscribers.
We think that a separate channel is not needed. Why? First of all, you need to understand the very essence of shorts. This is an opportunity to try new things, experiment, see what others are doing, and not forget about individuality. Any of your short videos are a reflection of you and your channel. And the only task for short videos is to attract a new audience.
At the moment when the viewer understands that the content is interesting to him, he clings to it and presses the "subscribe" button. He clicks on the button that YouTube offers. And this is your channel button. But if the channel is tailored specifically for shorts, you will get a subscriber to this channel. And a large percentage of viewers consider this action as completed and simply forget to find a link to the main channel. Do not complicate the life of the audience, the competition is already great.
Do not forget that the time of viewing short videos is not taken into account in any way and does not affect monetization, so a separate channel with shorts is unlikely to survive on its own for now. It can only make a profit if you are already a celebrity on YouTube, you have your own audience and credibility.
Even if it happens that your regular audience gets tired of your shorts and you lose a small percentage of subscribers, don't worry. Shorts are a long-term tool and if used correctly, they can bring in much more than you have lost.
Conclusion
When creating short videos, remember the purpose of your channel and the audience that watches it. Think about the expectations of these people, but don't forget about your personality as a content creator. Do not chase numbers, try new forms of creativity. After all, shorts are a tool "for growth".
Try to hook the viewer in the first two seconds. If you succeed, they are more likely to watch the video to the end and subscribe. Remember that a Shorts video is not just a visual aspect. There is the audio design, the text itself, and your presentation. Use different tools. Good Luck